By Milton Nkosi*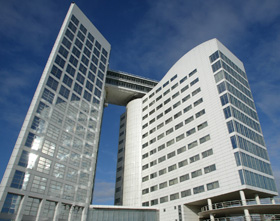 The call by South Africa's governing party to withdraw from the International Criminal Court (ICC) has implications for the rest of the continent. But it is not going to happen any time soon.
When South Africa joined the ICC in 1998 the country had just emerged from the scourge of apartheid.
South Africans were fresh victims of gross human rights violations and had hoped that the rest of the world would join the ICC.
But some of the most powerful countries did not follow.
And now the governing African National Congress (ANC) is calling for the country to leave the ICC – which would make it the first to do so.
'Hitler of Africa'?
The chairman of the ANC's commission on international relations, Obed Bapela, said that the ICC had "lost direction".
Mr Bashir was able to fly out of South Africa in June despite a warrant for his arrest for war crimes
This move away from the ICC comes not long after the South African government was criticised for allowing Sudan's President Omar al-Bashir to leave the country despite an ICC arrest warrant for alleged war crimes in Darfur. Mr Bashir denies the allegations, saying they are politically motivated.
Mr Bapela insisted South Africans were "very keen" to hear the stories of the victims of Darfur, as they had heard the victims of political crimes committed during the apartheid era at the Truth and Reconciliation Commission.
"Human rights matter to us but we want a fair system," he said. Continue reading →