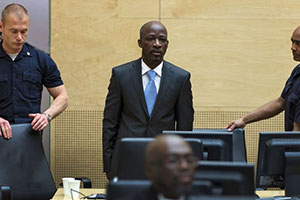 Today, Charles Blé Goudé appeared before the Single Judge of Pre-Trial Chamber I of the International Criminal Court (ICC). Judge Silvia Fernández de Gurmendi set the date of the beginning of the confirmation of charges hearing in the case for 18 August 2014.
The Chamber will soon set a calendar for proceedings leading to the confirmation of charges hearing, including for upcoming status conferences and for the disclosure of evidence.
Background: On 22 March 2014, Charles Blé Goudé was surrendered to the ICC by the national authorities of Ivory Coast on the basis of a warrant of arrest issued by ICC judges on 21 December 2011 and unsealed on 30 September 2013.
Charles Blé Goudé, national of Ivory Coast, allegedly bears individual criminal responsibility, as indirect co-perpetrator, for four counts of crimes against humanity, namely murder, rape and other forms of sexual violence, persecution, and other inhuman acts, allegedly committed in the territory of Ivory Coast between 16 December 2010 and 12 April 2011.