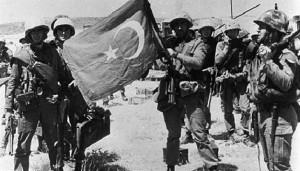 Today, the European Court of Human Rights (ECHR) has ordered Turkey to pay Cyprus €90 million in compensation for its 1974 invasion of the island.
In its judgement, the Court said the passing of almost 40 years did not erase Turkey's responsibility for the ensuing conflict and continuing division of Cyprus.
It held that the Turkish government must pay €30 million in damages to relatives of those missing in military operations and €60 million for "the enclaved Greek-Cypriot residents" of the Karpas peninsula.
The Karpas peninsula is situated in the Northern Turkish part of the island and is still home to hundreds of Greek Cypriots.
Only Turkey recognizes the Turkish Republic of Northern Cyprus that was proclaimed there.
Since the Turkish invasion, the northern third has been mainly inhabited by Turkish Cypriots and the southern two-thirds by Greek Cypriots.
Turkish forces were accused of ethnic cleansing after thousands of Greek residents were forced from their homes and replaced with Turks from the mainland.
The judgement comes as the Turkish and Greek Cypriot communities are engaged in a new effort to reunite the island.
Turkish Foreign Minister Ahmet Davutoglu told reporters in Ankara an ECHR ruling on the case would not be binding in terms of international law and drew attention to its timing.
"Just when talks within the framework of comprehensive peace have gained serious momentum in Cyprus, when a new process has begun, led by Turkey … such a decision is not right," he said, in comments made before the announcement of the verdict.
Riza Turmen, a former judge of the ECHR and now an opposition lawmaker in Turkey's parliament, said Ankara would be legally required to comply with the ruling.
"It's extremely clear from Article 46 of the European Convention on Human Rights, which says all signatories are committed to comply with final decisions."
In a judgment delivered on 10 May 2001 the Court found numerous violations of the Convention by Turkey, arising out of the military operations it had conducted in northern Cyprus in July and August 1974, the continuing division of the territory of Cyprus and the activities of the "Turkish Republic of Northern Cyprus".
Regarding the issue of just satisfaction, the Court held that it was not ready at the time for decision and adjourned its consideration.