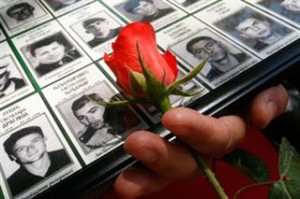 The fate of 1,655 people gone missing in Kosovo during the clashes in 1998 and 1999 remains unresolved, the Working Group in charge of missing persons stated at its 38th meeting on Tuesday.
In the course of ten years of its existence, the Working Group in charge of cases of persons gone missing in Kosovo managed to reduce the number of unsolved cases from 3,200 to 1,655, Chair of the Working Group Lina Milner said.
She noted that the key condition for progress in solving the fate of the missing is embodied in a continuous and constructive dialogue based on humanitarian grounds, without political rhetoric from Belgrade and Pristina.
Milner noted that 68 cases of missing persons have been solved this year and added that considerable progress has been made, especially in terms of exhumation of the grave site at Rudnica near Raska (southern part of central Serbia), as well as victim identification and delivery of the remains to the families.
Chairman of the Serbian government's Commission on Missing Persons Veljko Odalovic said that the exhumations at several sites at Rudnica have been approved thanks to the satellite footage by NATO which 'someone found in the archives'.
He noted that remains of 53 bodies (of ethnic Albanians) were found at the site and were successfully identified and handed over to EULEX which delivered them to the victims' families in Kosovo.
Odalovic said that the examination of the site in Batajnica near Belgrade was restaged this year at the request by the Pristina Commission on Missing Persons, and announced that four more locations will be examined next year.
He noted that the list of missing persons includes over 500 Serbs and several dozen Roma, and added that the Serbian authorities have filed the information and the request for examination of six locations in Kosovo-Metohija to the Pristina Commission on Missing Persons.
Odalovic told reporters that the meeting ended with the agreement according to which additional checks should be carried out concerning the IDs of exhumed remains, and recalled that some victims' bodies have been kept in the Pristina morgue for years on end.
During the meeting of the Working Group, chairs of the Commissions on Missing Persons from Belgrade and Pristina Veljko Odalovic and Pajazit Nusi exchanged information and plans on activities in the search for missing persons by the end of 2014 and in the course of 2015.
The meeting was attended by representatives of associations of the families of missing persons, Red Cross and the international community.
This article was originally published here.