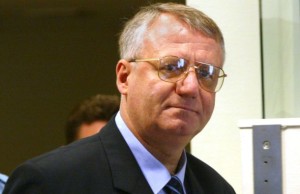 The International Criminal Tribunal for the Former Yugoslavia (ICTY) today acquitted Vojislav Šešelj of war crimes and crimes against humanity in connection with the conflicts in the Balkans in the 1990's.
Šešelj, 61, had been charged with three counts of crimes against humanity and six of war crimes over ethnic cleansing in Croatia, Bosnia and the Serbian province of Vojvodina between August 1991 and September 1993.
The charges involved the forcible transfer of tens of thousands of civilians; torture, sexual assaults, beatings and other physical abuse of detained non-Serbs; the destruction of homes, religious sites, cultural institutions; and hate speech.
However, the ICTY said that in the absence of any "crucial legal elements" to establish any form of criminal responsibility it was not possible to convict Šešelj for crimes against humanity.
The Prosecution had moreover not provided sufficient evidence to establish that the alleged war crimes were committed.
The three-judge Chamber found that it could not rule out the reasonable possibility that Šešelj incendiary speeches, calling for killing and revenge against his enemies, were "meant to boost the morale" of his followers, and were not crimes.
Moreover, the Court held that it could not dismiss the defence's argument that Mr Šešelj's men might have been present in contested regions, not to force Bosniak Muslims and Croats out of areas claimed for a Greater Serbia, but on "humanitarian grounds".
Judge Latanzi disagreed with almost all of the Majority's findings. She noted that the Majority failed to take into consideration the climate of intimidation to which Šešelj subjected the witnesses in the case and that the Majority had not provided sufficient reasoning, or no reasoning at all, in support of its findings.
In her highly critical Dissenting Opinion, Judge Latanzi concluded:
"Under the pretext that the Prosecution did not do its job well  …  the majority sets aside all the rules of international humanitarian law that existed before the creation of the Tribunal and all the applicable law established since the inception of the Tribunal in order to acquit Vojislav Šešelj."
The Economist called the acquittal a "a victory for advocates of ethnic cleansing" and stated that "some of the court's reasoning seems so far-fetched, particularly to any reporter who was in Croatia and Bosnia at the time, that it defies belief."
The Office of the Prosecutor issued a press statement after the verdict, stating that it would carefully review the Trial Chamber's reasoning that led to the acquittal, after which it would determine whether to appeal the judgment.
The Office of the Prosecutor added that Šešelj has been convicted three times of contempt of court for revealing the identities of protected Prosecution witnesses and sentenced to a total of 4 years and 9 months imprisonment for those crimes.
Media reported that Šešelj may seek €14million from the ICTY for the "suffering" he has been through waiting for the verdict.