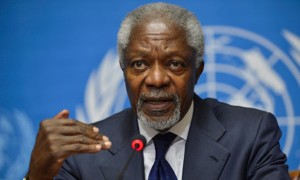 In a recent interview, the former Secretary General of the United Nations, Kofi Annan, said the UN Security Council must welcome in new permanent members or risk becoming increasingly irrelevant on the international stage.
Annan said Russia, China, the US, France and the UK should take advantage of the imminent 70th anniversary of the UN to modernise it by taking in powers such as India and Germany.
"One should always take advantage of the accident of the calendar and really push for major reforms […] I firmly believe that the Council should be reformed: it cannot continue as it is."
The current system has been criticised as an anachronism, setting in stone the global politics of 70 years ago. Among the longstanding proponents of reform are India, Germany, Japan and South Africa, all lobbying for a permanent seat on the Council.
"The world has changed and the UN should change and adapt. […] I think those in privileged positions will have to think hard and decide what amount of power they are prepared to release to make the participation of the newcomers meaningful. If they do that, they will get cooperation; if they don't, we risk confrontation," said Annan.
Successive Secretaries General have attempted to push through reforms but have met resistance from the sitting powers. Any reform of the Security Council would require the agreement of all five permanent members, and at least two-thirds of UN member states.
A text setting out the basic framework for reform is being considered by member states, but experts are pessimistic regarding its implementation, given the lack of interest from big powers such as the United States and Russia.