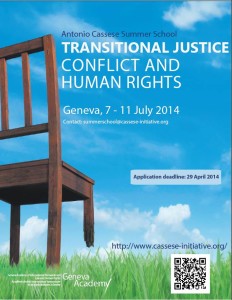 Date: 7-11 July 2014
Location: Geneva Academy of International Humanitarian Law and Human Rights,
Villa Moynier – Rue de Lausanne 120B – CP 67 – 1211 Geneva 21 – Switzerland
The Antonio Cassese Initiative for Justice, Peace and Humanity and the Geneva Academy of International Humanitarian Law and Human Rights open their application process for the Summer School 2014.
The 2014 Antonio Cassese Summer School offers an intensive course on transitional justice principles and processes, with a special focus on post-conflict situations.
Based on both scholarly and practitioner expertise across a range of areas (including human rights, international criminal law, security reform, legal philosophy, gender politics) and country situations, the programme combines a general course on
transitional justice with complementary topic-specific lectures. The general course will be delivered by leading transitional justice scholar Naomi Roht-Arriaza, Professor of law at the University of California.
For further information about the Summer School please click here.