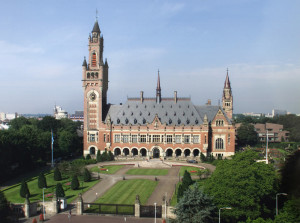 The International Court of Justice, the principal judicial organ of the United Nations, has ruled on Thursday that it has jurisdiction to hear a century-old dispute between Chile and Bolivia in relation to Bolivia's access to the Pacific Ocean.
Bolivia became landlocked after it lost 400km of coast to Chile during the War of the Pacific in 1879-1884.
In April 2013, Bolivia filed an application to the International Court of Justice instituting proceedings against Chile with regard to a dispute "relating to Chile's obligation to negotiate in good faith and effectively with Bolivia in order to reach an agreement granting Bolivia a fully sovereign access to the Pacific Ocean". Bolivia stressed that it did not ask for an ICJ ruling on its claim to the 400-km stretch of coast, but that it only wanted Chile to agree to negotiations.
Chile argued that the case did not fall under the jurisdiction of the ICJ as a 1904 peace treaty between the two countries settled their border. It therefore asked the Court to rule that the claim brought by Bolivia was not within the jurisdiction of the Court. Continue reading →