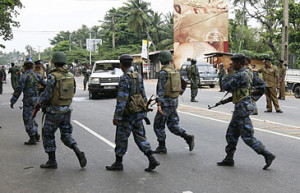 A government-appointed Sri Lankan judge, Maxwell Paranagama, says allegations the army committed war crimes during the long conflict with Tamil Tiger rebels are "credible".
The judge was leading the first government inquiry into the atrocities, one month after the UN released its own findings.
The President of Sri Lanka, Maithripala Sirisena, has already vowed to set up a truth and reconciliation commission to investigate further.
In his report, the judge said there were "credible allegations which […] may show that some members of the armed forces committed acts during the final phase of the war that amounted to war crimes giving rise to individual criminal responsibility".
He called on the government to set up an internationally-backed judicial inquiry, which was also recommended in the UN report in September.
The UN report found that the sheer number of allegations, their gravity, recurrence and the similarities in their modus operandi, as well as the consistent pattern of conduct they indicated, all pointed towards system crimes. It emphasised that violations of international human rights law, serious violations of international humanitarian law and international crimes were allegedly committed by all parties to the conflict.
Among the crimes that were identified were unlawful killings, enforced disappearances, and arbitrary arrests of civilians by Sri Lankan security forces and paramilitary groups as well as brutal use of torture, particularly in the aftermath of the armed conflict when former. The report also says that there are reasonable grounds to believe that rape and other forms of sexual violence by security forces personnel was widespread against both male and female detainees.
The Sri Lankan war started in 1983 when the Liberation Tigers of Tamil Eelam (the LTTE) started an insurgency against the Sri Lankan government in order to create an independent Tamil state in the north and east of the country. In 2009, the Sri Lankan military defeated the LTTE, bringing the 26-year civil war to an end. The UN estimates that 40,000 Tamils died in the final army offensive.