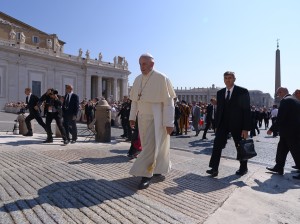 Pope Francis has approved the creation of a tribunal to hear cases of bishops accused of covering up child abuse by paedophile priests.
The tribunal will have the power to punish bishops who failed to protect young victims.
Last year, the UN strongly criticised the Church for failing to stamp out abuse and for allowing cover-ups.
The Palace of the Holy Office, which stands on the edge of the Vatican, will host the Tribunal. The palace will have to rearrange its furniture to make room for the secretary and staff of its new "Judicial Section".
This section will work as a formal tribunal. It will investigate Catholic bishops who may have covered for priests suspected of child sex abuse, and will have the power to punish bishops found to have acted improperly.
The Pope's decision followed a recommendation from the Pope's newly created panel on clerical sex abuse. The panel was set up by Pope Francis in 2013 to help dioceses improve abuse prevention measures and support victims. It is made up of 17 clerics and lay people from around the world.