Yesterday, the Delegation of the European Union (EU) to Bosnia and Herzegovina, joined by the U.S. Ambassador, met with the authorities of the Republika Srpska to share their concerns about the planned referendum on the State-level judicial institutions.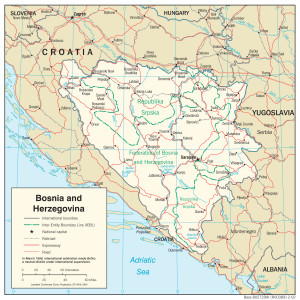 As set up by the Dayton accord, Bosnia and Herzegovina is separated into two entities: a Bosniak-Croat Federation of Bosnia and Hercegovina, and the Bosnian Serb Republic, or Republika Srpska, each with its own president, government, parliament, police and other bodies. In line with its preparation for accession to the EU, the Structure Dialogue on Justice was established in 2011 by the European Commission. The mechanism aims to advance structured relations on the rule of law with potential candidate countries, even prior to the entry into force of the Stabilisation and Association Agreement (SAA) and has been assisting Bosnia and Herzegovina to consolidate an independent, effective, efficient and professional judicial system.
In this context, the EU fears that the organization of a referendum would undermine the sovereignty and stability of Bosnia and Herzegovina, representing "an unconstitutional attempt not to reform but to undermine and weaken those authorities, and would thus pose a direct threat to the sovereignty and security of the country as a whole." Would the referendum be organized, it would question the ability of Bosnia and Herzegovina to adopt legal binding agreements, such as EU instruments, and to have them respected. For the EU, such a referendum would therefore "seriously harm this country's EU accession path".