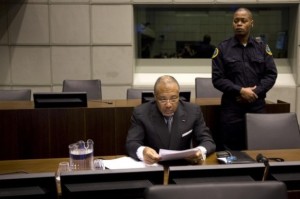 In a recent post on Opinio Iuris, Kevin John Heller commented upon the motion by Counsel for Charles Taylor requesting that the former Liberia President be transferred from his UK prison to Rwanda.
The motion depicts Taylor's mistreatment by the British government, illustrated by his isolation in jail where his family was given no opportunity to visit him. Moreover, this situation is exacerbated by menaces to Taylor's life according to an anonymous letter possibly originating from within the prison itself threatening Mr Taylor with bodily harm and death.
Taylor's Counsel draw attention to the situation of ICTY convict Radislav Krstic who suffered a near-fatal attack by his UK prison teammates in 2010. Krstic was then transferred back to The Hague.
iLawyer John Jones QC is Counsel for Charles Taylor.