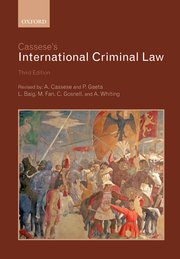 On 20 May 2015, the Arabic translation of Antonio Cassese's International Criminal Law will be officially launched in Beirut.
The book International Criminal Law is one of the most popular textbooks available in the field and provides a concise introduction to both international criminal law and international criminal procedure.
During the launch event, organised by the Embassy of Switzerland in Lebanon and Sader Legal Publishing, in cooperation with the Special Tribunal for Lebanon, distinguished speakers, including  H.E. Ashraf Rifi, Minister of Justice of the Republic of Lebanon and H.E. Francois Barras, Ambassador of Switzerland to Lebanon, will make remarks on the relevance of International Criminal Law for Lebanon and the MENA region.
This will be followed by a panel discussion, during which Christopher Gosnell, lawyer and co-reviser of International Criminal Law, will speak about the content and the relevance for academia and other professionals of the book.
Olga Kavran, head of Outreach and Legacy at the Special Tribunal for Lebanon, will elaborate on the impact of the STL on the development of international criminal law and on Lebanon.
Judge Mohammad Amin El Mahdi, former Minister and current Head of the Supreme Administrative Court and Conseil d'Etat in Egypt, will tell the audience about the importance of international criminal law and its relevance in the MENA region.
And Dr. Camille Habib, dean of the Faculty of Law at the Lebanese University, will emphasise the importance of educating Lebanese students in international criminal law.
Antonio Cassese is among the most distinguished figures in international law and international criminal justice. He was the first President of the International Criminal Tribunal for the former Yugoslavia and the Special Court for Lebanon, offered constructive suggestions on the Special Court for Sierra Leone and the International Criminal Court and actively contributed to the development of international criminal law, amongst others by his book International Criminal Law (2008).
The event will take place at the Maison de l'Avocat in Beirut, from 4-6pm and will be followed by a reception.