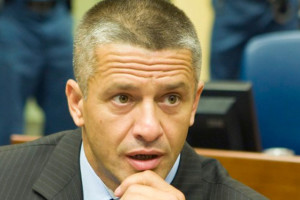 The United Nations Mechanisms for International Criminal Tribunals (MICT) has rejected a request from former Bosnian Army General Naser Orić's lawyers to order the Bosnian state court to stop the case against him because he has already been acquitted of the charges by the International Criminal Tribunal for the former Yugoslavia (ICTY).
The lawyers argued that Orić cannot stand trial for the same crimes twice.
Judge Liu Daqun said in his decision that Orić was acquitted by the ICTY of command responsibility for the killings of one Serb at the Srebrenica police station and six others in the local municipality building.
However the charges in Bosnia allege he personally killed one Serb in the village of Zalazje and took part in the killings of two other Serbs in Bratunac along with another Bosnian Army fighter.
"I note that in the present case, the murder charges in the Bosnian indictment fundamentally differ from the murder charges in the Hague indictment with respect to the alleged victims and the nature, time and location of the alleged crime," said the judge.
The Bosnian court recently said that Orić's trial will open once the MICT reaches its decision.