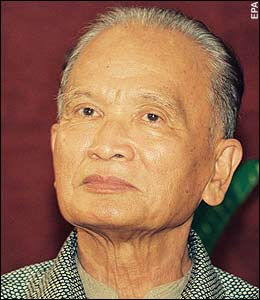 Last week, on 29 December 2014, the defence team of the Khmer Rouge regime's former chief ideologue, Nuon Chea, filed a full appeal against the 88-year-old's life sentence and convictions for crimes against humanity.
Raising 223 grounds of appeal, Nuon Chea requested an acquittal on all charges for which he and Khieu Samphan were convicted in Case 002/01 by the Extraordinary Chambers in the Courts of Cambodia (ECCC) in August 2014.
The 270-page long appeal brief sets out numerous flaws in the criminal proceedings and in the trial judgment.
The brief first highlights two issues that have plagued the investigation: pervasive political interference and a biased flawed investigative approach of the Co-Investigating Judges.
Nuon Chea's lawyers alleged that "the lack of independence and impartiality permeating the investigation were equally apparent before the Trial Chamber." According to the defence, the Trial Chamber is "deeply biased" against the Accused and incapable of impartially assessing the evidence (appeal grounds 3 & 4).
The defence based this claim on a careful and detailed analysis of the judgment, which reveals, according to the Appeals brief, that a substantial portion of the findings are, or would be reasonably perceived to be attributable to a pre-disposition against the accused, and not genuinely related to the application of law, or to the assessment of the relevant facts. Continue reading →