by Refik Hodzic*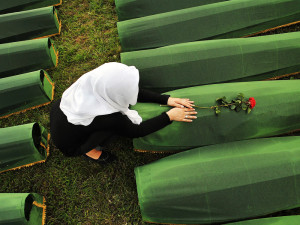 Right now, people in the Balkan region are still living a war, this time for the 'truth' about ethnic superiority that will shape the attitudes of future generations.
Bosnia and Herzegovina is about to mark the twentieth anniversary of the Srebrenica genocide – a somber moment of remembrance, seen by many as an opportunity to promote the notion of reconciliation between the country's ethnic groups. The United Kingdom seems to be the leading proponent of such an approach, with a draft resolution commemorating Srebrenica already circulating among the Security Council members and the 'interested states,' primarily Bosnia and Herzegovina and Serbia.
However, a brief glance at the public discourse around the anniversary paints a very different picture, one of no political agenda for reconciliation, of no social project aimed at overcoming the legacy of the conflict from the '90s, of a continuing struggle for ethnic dominance. Indeed, can we constructively talk about reconciliation in a country still gripped by war?
It is not a war for territory anymore, with the cannons having fallen silent 20 years ago with the signing of the Dayton Peace Accords, but it is a war nonetheless. A war fought by 'other means,' a vicious fight for the dominant narrative of the past, for the 'truth' as the foundation of political projects largely rooted in wartime goals of ethnic separation and dominance. This war is mainly fought out in political arenas, but also in the media, in classrooms, churches and mosques, at family dinner tables, and its consequences are bound to have a lasting impact on the region's stability. Continue reading →