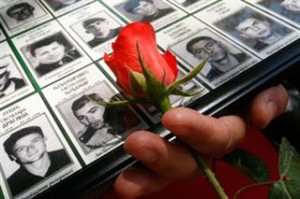 The fate of 1,655 people gone missing in Kosovo during the clashes in 1998 and 1999 remains unresolved, the Working Group in charge of missing persons stated at its 38th meeting on Tuesday.
In the course of ten years of its existence, the Working Group in charge of cases of persons gone missing in Kosovo managed to reduce the number of unsolved cases from 3,200 to 1,655, Chair of the Working Group Lina Milner said.
She noted that the key condition for progress in solving the fate of the missing is embodied in a continuous and constructive dialogue based on humanitarian grounds, without political rhetoric from Belgrade and Pristina.
Milner noted that 68 cases of missing persons have been solved this year and added that considerable progress has been made, especially in terms of exhumation of the grave site at Rudnica near Raska (southern part of central Serbia), as well as victim identification and delivery of the remains to the families. Continue reading →