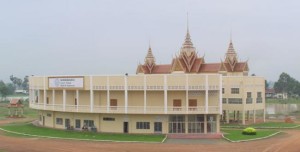 The International Co-Investigating Judge Michael Bohlander of the Extraordinary Chambers in the Court of Cambodia (ECCC) has charged Ta Tith, or Yim Tith, with crimes including genocide in Case 004.
A statement released today shows that the accused has been charged with genocide against the Khmer Krom, an ethnic minority from Southern Vietnam, as well as with the crimes against humanity of murder, extermination, enslavement, deportation, imprisonment, torture, and forced marriage, and grave breaches of the 1949 Geneva Conventions.
Ta Tith was a secretary of the Khmer Rouge's Northwest Zone at the time of the genocide which took place in the country from 17 April 1975 to 6 January 1979.
The Cambodia Daily reported that Ta Tith had been charged in person at the Court, after which he returned home with his lawyers.
Im Chaem and Maes Muth, suspects in Cases 003 and 004, had been charged with crimes allegedly committed during the Democratic Kampuchea regime earlier this year on 3 March 2015. Maes Muth was a high ranking navy commander in the Revolutionary Army of Kampuchea. Im Chaem was allegedly secretary of Preah Net Preah District in the North-West Zone. Ta An, or Ao An, the former deputy secretary of the Central Zone during the Democratic Kampuchea regime, had been charged on 30 March 2015.
As a result of the formal charges, Ta Tith and his lawyers now have access to the complete case file and are able to participate in the investigation.
Cases 003 and 004 are opposed by the Cambodian government, with Cambodian police having refused to execute arrest warrants issued by the International Co-Investigating Judge last year for suspect Meas Muth and Im Chaem.