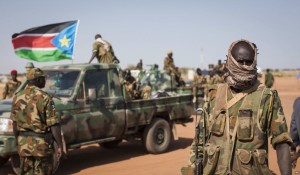 Speaking in Nairobi on Monday during a visit to Kenya, US Secretary of State John Kerry said South Sudan was at "grave risk" as he announced US backing for a "hybrid court" to hold warring parties to account.
Kerry said he supported the creation of "a credible, impartial and effective justice mechanism, such as a hybrid court, in order to hold perpetrators of violence to account."
A hybrid court would combine international and domestic law.
More than 50,000 people died since the beginning of the war in December 2013, which spread from the capital Juba to the rest of the country, forcing more than a million from their homes.
Kerry said the promise of independence in 2011 was "at grave risk of being squandered".
Stalled peace talks hosted in Addis Ababa have failed to end the fighting, which Kerry blamed on President Salva Kiir and rebel leader Riek Machar.
"Unfortunately, South Sudan's leaders, both those in office and those contesting, have not yet chosen to make the compromises needed for peace," Kerry said.
Human rights activists say that decades of impunity for past crimes have contributed to the current round of civil war and justice must be sought if an end to the cycles of violence is to be found.
In December advocacy group Human Rights Watch proposed the setting up of a "hybrid court" involving both international and domestic judges, as in the case of the Special Court for Sierra Leone.
On Monday Kerry endorsed the idea of a hybrid court and pledged $5 million (4.5 million euros) to kickstart the process.