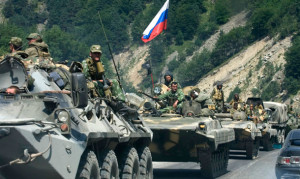 On 13 October 2015, the Prosecutor of the International Criminal Court (ICC), Fatou Bensouda, requested the judges of Pre-Trial Chamber I of the Court for authorisation to open an investigation into the alleged war crimes and crimes against humanity in relation to the August 2008 armed conflict in Georgia.
The situation in Georgia has been under preliminary examination by the Office of the Prosecutor since August 2008, when armed clashes between South Ossetian separatists, supported by Russia, and Georgian forces turned into an armed conflict.
While Russia is non-member state after signing, but not ratifying, the Rome Statute, Georgia became a member of the ICC in 2003, providing the ICC with jurisdiction over Rome Statute crimes committed on its territory from 2003 onwards.
The Prosecutor found a reasonable basis to believe that war crimes and crimes against humanity were committed in the context of the armed conflict. This includes alleged crimes committed as part of a campaign to expel ethnic Georgians from South Ossetia as well as attacks on peacekeepers by Georgian forces, on the one hand, and South Ossetian forces, on the other.
According to the Prosecutor between 51 and 113 ethnic Georgian civilians were killed as part of a forcible displacement campaign conducted by South Ossetia's de facto authorities, with the possible participation of members of the Russian armed forces. Between 13,400 and 18,500 ethnic Georgians were forcibly displaced and more than 5,000 dwellings belonging to ethnic Georgians were reportedly destroyed as part of this campaign.
Until recently, the competent national authorities of both Russia and Georgia were engaged in conducting investigations against those who appeared to be most responsible for crimes which are the subject of this application. However, more recently, national proceedings in Georgia have stalled, thereby making the potential case admissible due to State inaction. Some investigations may nevertheless be underway in Russia, meaning that the ICC might not have full jurisdiction over crimes covered by those probes.
If the Pre-Trial Chamber authorises the Prosecutor to open the investigation, this would be the first ICC investigation that is not involving an African country. The request comes amid plans of South Africa to leave the International Criminal Court which sparked fears that this might lead to a broader African withdrawal.
However, it is argued that the Prosecutor's decision to move forward on Georgia is not made in light of a prosecution strategy to move cases out of Africa, but that after seven years the case simply demanded to be taken forward.