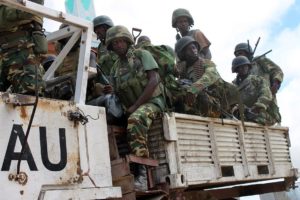 South Sudan conflict was one of the main concerns of the last African Union (AU) Summit held in Kigali (Rwanda) on 17 and 18 July 2016, where the African leaders made it official that they were willing to deploy troops in South Sudan.
UN chief Ban Ki-moon expressed his support for the AU deployment.
South Sudan just emerged from the 2013-2015 civil war which displaced 2.2 million people. Notwithstanding, the recent fighting between rival forces which left hundreds of people dead jeopardizes the Peace Deal signed in August 2015.
Even if a 12 000-strong UN peacekeeping force is already in South Sudan, the African leaders want to put into order a stronger mandate. According to Smail Chergui, the AU Peace and Security Commissioner, "the UN doesn't have the mandate to impose peace".
The details on the force are not agreed yet, but it will involve soldiers coming from Ethiopia, Kenya, Rwanda, Sudan and Uganda and the model used will probably be similar to the intervention deployed within the UN's mission in Democratic Republic of Congo held in 2013. Smail Chergui explained that "African troops are ready to engage in very difficult situations".