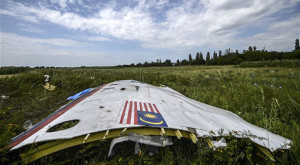 Russian President Vladimir Putin has rejected calls for the establishment of a UN tribunal to prosecute suspects in the MH17 air disaster over Ukraine.
Mr Putin made the remarks ahead of the first anniversary of the crash yesterday. The crash killed 298 people.
The Kremlin said in a statement that Mr Putin had "explained Russia's position regarding the premature and counter-productive initiatives of several countries, including the Netherlands, on the establishment of an international tribunal". Russia also criticised what it said was politicised media coverage of the disaster.
For Mark Rutte, the Dutch Prime Minister, the establishment of a tribunal would help secure justice and would also constitute "the best guarantee of co-operation from all countries" in trying to secure justice.
The airliner was flying from Amsterdam to Kuala Lumpur when it crashed on 17 July 2014.
Western nations believe there is growing evidence that the plane was hit by a Russian-supplied missile fired by pro-Russian rebels in the area. However, Russia blames Ukrainian government forces.
The Netherlands is leading the criminal investigation into the disaster. It is being assisted by Belgium, Australia and Ukraine.
The Dutch Safety Board will release a final report on the cause of the crash in October.