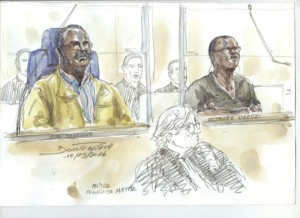 Yesterday, a Paris court convicted to life imprisonment two former Rwandan mayors for crimes against humanity and genocide over killing of 2,000 people.
Octavien Ngenzi, 58, and his predecessor Tito Barahira, 64, were accused of ''massive and systematic executions'' of Tutsis during the country's 1994 genocide, in their village of Kabarondo, where some 2,000 people seeking refuge in a church were bludgeoned and hacked to death.
Ngenzi and Barahira have consistently denied the charges.
The eight-week trial has heard testimony depicting the two men as "supervisors" and "executioners" in the massacre.
"Ngenzi was the leader," said prosecutor Philippe Courroye, who requested life sentences for the two men. Barahira was the "dreaded machete officer," he added.
Among those seeking shelter at the church was Marie Mukamunana, who told the court how her seven children and husband were killed by grenades and machetes. Continue reading →