By Vani Sathisan (International Legal Advisor, International Commission of Jurists) and Bobbie Sta. Maria (Senior Researcher for Southeast Asia, Business & Human Rights Resource Centre)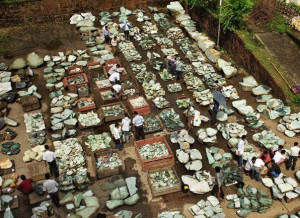 While SEZs are supposed to be a driver for Myanmar's economic growth, their impacts on the rights of affected communities indicate that this growth is reserved for businesses and investors.
This is a long form version of this article published by Reuters on 1st April 2016.
More than half a century of military rule ostensibly comes to a close on April 1, when Daw Aung San Suu Kyi's National League for Democracy (NLD) officially takes over Myanmar's government and the first civilian President since 1962 starts leading the nation. Despite these extraordinary developments, daunting challenges remain in Asia's second poorest country. Myanmar's military still controls key governmental functions; the country is barely emerging from decades of civil conflicts; rule of law and institutions are weak; the economy is fragile and dominated by crony companies; corruption, and human rights abuses remain stubbornly persistent.
The outgoing government initiated a number of significant changes, including efforts to encourage economic development through foreign trade and investment. This strategy included heavily promoting foreign investment through three major special economic zones (SEZ): a Japanese supported zone focused on manufacturing in Thilawa, near Yangon; a Thai supported zone initially focused on heavy industry including petrochemicals in Dawei in the south; and a Chinese supported zone in Kyaukphyu in the northwest, envisioned as a trade corridor connecting the Chinese, Indian and ASEAN economies. These were said to build on Myanmar's strategic location and low-cost production base for export destinations in the region.
The NLD recently announced that while it supports the zone in Thilawa, it will reconsider the continuation of the Dawei and Kyaukphyu SEZs, study commitments made by the former government to investors, and speak with relevant stakeholders. This is a crucial process and many hope that the NLD does not lose sight of its commitments in its Election Manifesto, including encouraging "foreign investment in line with the highest international standards", and laying down "paths for economic cooperation that can bring sustainable long-term mutual benefits". Continue reading →