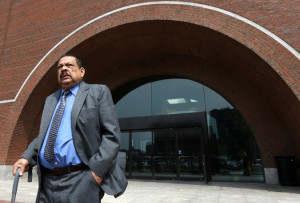 A United States Federal judge approved Spanish extradition requests on Friday ordering the deportation to Spain of Inocente Orlando Montano Morales, a former Salvadoran colonel, where he will stand trial for his role in planning the murders of six Jesuit priests and two women during El Salvador's civil war in 1989. Most of the priests were originally from Spain.
"In short, the government's evidence shows (Montano) was a decision-maker and member of a group of officers who collectively ordered the unlawful killings of Jesuit priests," Federal magistrate judge Kimberly Swank wrote.
The judge also cited evidence that Montano provided information to the killers, including the location of a priest who was considered a primary target, then later threatened a witness' wife to help conceal the crime. Montano served as the country's vice-minister of public security and was part of an inner circle of powerful military officers.
The judge ordered that US marshals take custody of Montano so he can be turned over to Spain, pending final approval by the State Department.
The civil war left 75,000 dead and 8,000 more disappeared, the vast majority of whom were victims of the military regime's "dirty war" against political opponents, leftist activists, and other community organizers, including many religious leaders.
The Jesuits had a long-standing affiliation with liberation theology, and government officials suspected the priests of sympathizing with the insurgency.
To date, the majority of individuals responsible for the widespread human rights abuses committed during the civil war have not been held accountable for their crimes.