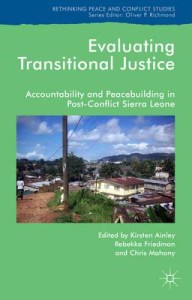 Demonstrating groundbreaking analysis, this is the first major study to evaluate the transitional justice programme in Sierra Leone. Rather than focusing on a single mechanism, the authors examine how the Special Court, Truth and Reconciliation Commission (TRC), local justice initiatives and reparations programme interacted.
Contributors to the book include the Prosecutor of the Special Court and one of the Commissioners from the TRC, alongside a range of experts on transitional justice, on international law and on Sierra Leone.
The authors consider the political and normative drivers of transitional justice and the lessons that the Sierra Leone programme stands to offer other post-conflict situations.
This edited volume makes a significant contribution to the field by demonstrating how contextual knowledge should be used alongside normative standards when evaluating transitional justice.
iLawyer Wayne Jordash QC wrote the chapter called "Comparing Fairness and Due Process in the RUF and CDF cases: Consequences for the Legacy of the Special Court for Sierra Leone"
If you wish to order the book, click here.