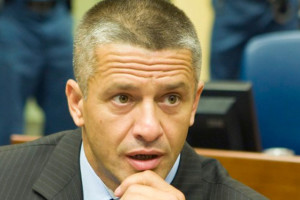 Naser Orić's defense lawyers have called on the Mechanism for International Criminal Tribunals to order the termination of the proceedings against their client. The charges against him were brought before the State Court in Sarajevo
The defense of Naser Orić, who was tried by the International Criminal Tribunal for the former Yugoslavia (ICTY), has asked Theodor Meron, the president of the Mechanism for International Criminal Tribunals, to appoint a panel of judges which would order the Bosnia and Herzegovina (BH) State Court to terminate the proceedings against the former BH Army commander in Srebrenica.
In the motion, the defence has invoked Article 7 of the Mechanism's Statute, which stipulates that 'no person shall be tried before a national court for acts constituting serious violations of international humanitarian law under the present Statute for which he or she has already been tried by the ICTY, the ICTR, or the Mechanism'. Orić's defense has also invoked the Rules of Procedure which stipulate that if the president of the Mechanism receives reliable information that proceedings have been instituted before a national court against a person who has already been tried before one of the international tribunals, the president should issue a 'reasoned order' to 'permanently terminate' the proceedings.
The indictment against Naser Orić was submitted in late August 2015 to the BH State court, charging him with violations of international law and the Geneva Conventions. As a commander in the BH Army, the indictment alleges, Orić abused Serb detainees. The indictment also accuses Orić and Sabahudin Mihic of killing three prisoners - Slobodan Ilic, Milutin Milosevic and Mitar Savic - in Zalazje, Lolici and Kunjerac in 1992.
Those killings were not specifically listed in the Tribunal's indictment against Orić, but the proceedings in Sarajevo pertain to the same military activities which were the basis of the case at the ICTY, the defense argues: the BH Army actions in Eastern Bosnia in 1992 and 1993. According to the defense, the fact that the crimes committed in that period were given a different legal qualification in the two indictments, issued in The Hague and in Sarajevo, is irrelevant.
In June 2006, the International Criminal Tribunal for the Former Yugoslavia (ICTY) convicted Naser Orić to two years in prison for failing to prevent murder and cruel treatment of Serb prisoners in Srebrenica between late 1992 and early 1993. He was released immediately, as he had already spent three years in custody.
On appeal, Orić was acquitted of all charges, as the Appeals Chamber held that there was a lack of evidence establishing beyond reasonable doubt that Naser Orić was individually responsible for the crimes against Serb detainees.