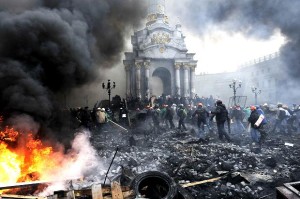 According to Western diplomats and officials, the Red Cross has made a confidential legal assessment that Ukraine is officially in a war. Such statement would open the door to possible war crimes prosecutions, including over the downing of Malaysia Airlines MH-17.
"Clearly it's an international conflict and therefore this is most probably a war crime," one Western diplomat said in Geneva.
The Red Cross has not made any public statement - seeking not to offend either Ukraine or Russia by calling it a civil war or a case of foreign aggression - but it has done so privately and informed the parties to the conflict.
"The qualification has been shared bilaterally and confidentially. We do not discuss it publicly", said Anastasia Isyuk, the Red Cross spokeswoman.
The designation as a war - either international or civil - changes the situation as it turns both sides into combatants with equal liability for war crimes, which have no statute of limitations and cannot be absolved by an amnesty.
Suspects may also be arrested in the countries which apply "universal jurisdiction" to war crimes.
Based on the Law on International Crimes, Dutch prosecutors have opened an investigation into the crash of Malaysia Airlines flight MH-17 on suspicion of murder, war crimes and intentionally downing an airliner.
This Law allows the Netherlands to prosecute any individual who committed a war crime against a Dutch citizen. The 298 people who were killed when the plane was downed over Ukraine included 193 Dutch citizens.
Last May, Russian President Vladimir Putin said that Ukraine had collapsed into civil war, while Ukraine regards the conflict as a war involving Russian aggression.