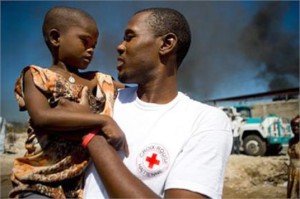 The Netherlands Red Cross and Belgian Red Cross-Flanders invite you to attend the Finals of the Frits Kalshoven Competition on International Humanitarian Law 2015 on Friday afternoon 27 February 2015.
The Competition, which will take place for the 8th year, has as its objective to engage ambitious Law students in the implementation of the rules that apply during armed conflict. The theme of this year's competition is "Warfare in densely populated areas", a subject that has been in the news often recently.
The focus will be on realistic dilemmas surrounding use of explosive weapons and the protection of civilians.
After an intense week full of workshops, lectures, role plays and pleadings about international humanitarian law, two teams will compete in the grand finale of the Moot Court in front of a bench of reknown experts:
- Judge Alphons Orie (International Criminal Tribunal for the former Yugoslavia)
- Commodore Peter Heblij (Head Military Legal Service, Netherlands Ministry of Defence)
- Ms Mariya Chavdarova Nikolova (ICRC, Editor of International Review of the Red Cross)
The prize for Best Oralist will be awarded by Pieter de Jong Schouwenburg (Van Doorne Advocaten).
The Competition will take place at The Hague Crown Plaza (Van Stolkweg 1, 2585 JL Den Haag) on 27 February 2015.
You can register online until 20 February.