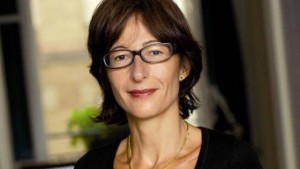 The International Criminal Tribunal for the former Yugoslavia (ICTY) released French journalist Florence Hartmann from its prison in The Hague on Tuesday.
The journalist had spent five days in the prison, which is normally reserved for war crimes suspects and convicts.
Last Thursday, Ms. Hartmann was unexpectedly arrested by security officials of the Tribunal outside the court gates while she was talking with victims from the Bosnian war. Ms. Hartmann had come to The Hague to hear the verdict against Radovan Karadzic, the former Bosnian Serb leader.
Ms. Hartmann was told that she had to serve a seven-day sentence because she had not paid a fine in a court judgment against her. Former press officer of the Tribunal, she was convicted of contempt of court in 2009 for having revealed in a book how tribunal judges had issued confidential decisions ruling that parts of the records provided by Serbia could be used in closed sessions of the court but had to be kept out of the public eye.
Ms. Hartmann had argued that victims had a right to know about the confidential agreement made between tribunal judges and Serbia.
After her release on Tuesday, Ms. Hartmann said what had angered the judges most was that she wrote that they had acted "unlawfully" and had therefore made their decisions confidential.
On Tuesday afternoon, the court freed Ms. Hartmann after her lawyer, Guénaël Mettraux, filed a motion for her release because she had served two-thirds of her sentence. Continue reading →