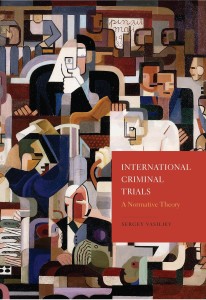 On Friday 25 April 2014, Sergey Vasiliev was granted his PhD by the University of Amsterdam (UvA) cum laude. Dr Vasiliev's doctorate is devoted to the trial in international criminal proceedings. It is now available in a book of extraordinary depth and quality, which is highly recommended.
Among the numerous works on international criminal procedure, there has been no study focusing on the international criminal trial as a socio-legal phenomenon and a phase of international criminal proceedings. The book seeks to cover this gap by systematically examining the nature and organization of trials conducted by the historical and contemporary international
and hybrid criminal tribunals from the Nuremberg Tribunal to the Special Tribunal for Lebanon.
The study posits international criminal trials as a distinct object of theoretical and legal inquiry. It combines the methodological, conceptual, comparative, and critical approaches to the subject-matter for the purpose of developing the normative theory of international criminal trials.