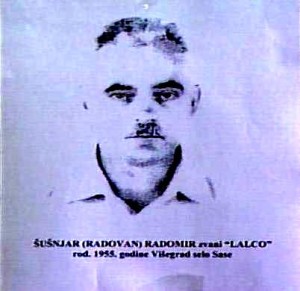 Today, the Paris Court of Appeal ruled to extradite Radomir Susjnar, a suspected Bosnian Serb paramilitary, to Bosnia-Herzegovina to face charges of crimes against humanity.
Bosnia-Herzegovina wants Susnjar to face accusations he was part of a Bosnian Serb paramilitary group that massacred 59 Bosnian Muslims in the city of Visegrad in June 1992.
Witnesses say Susnjar personally locked the people – most of them women, children or elderly – inside a house and set it on fire. All but eight of them perished.
He was arrested in the Paris region in April 2014.
The court's ruling in favour of extradition on international principles was a relief to victims, who had called on the court not to set precedent they feared would allow war criminals to find a safe haven in France.
"It's a great day for us, for truth, and for justice," says Bakira Hesecic, president of the Bosnian group Women Victims of War, who was in France to hear the ruling. "We hope that during the trial in Bosnia, Susnjar will reveal the location of the remains of the victims that he burned in the house, so that their families can give them a proper burial."
Susnjar's lawyer Olivier Morice said he would take the case to France's Cassation Court.
"Mr. Susnjar believes the appeal court gave into pressure from Bosnia-Herzegovina, and that is intolerable," Morice says, arguing the ruling did not follow procedures of the criminal code.
"At the time, what was then Yugoslavia had no laws to punish this type of incident, and so he cannot be tried for these offences today," Morice argues.
The judge that ruled in favour of the extradition suggested the Cassation Court could reverse the order, as it had a different interpretation of the case.
The Cassation Court has previously reversed extradition rulings for suspects wanted in Kigali for their alleged participation in genocide in 1994, on the ground that the crime was not a punishable offence in Rwanda until after the genocide.