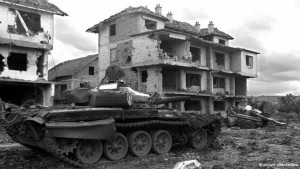 Last week, the Swiss authorities have arrested two Kosovans wanted by Serbia for suspected war crimes.
The men, whose identity was kept confidential, are suspected of committing war crimes as members of the Kosovo Liberation Army (KLA) during the 1998–99 war.
The first man is suspected of participating in armed attacks in 1998 against two villages situated in Kosovo.
Serbia accuses him of a range of crimes, including murder, rape and conducting illegal arrests.
The second man was arrested during a routine check in Geneva and is suspected of having killed a civilian in 1999.
The Serbian authorities have requested their extradition but both men have refused it.
Moreover, Kosovo insists that it should handle cases of suspected war crimes committed by Kosovan citizens, and not Serbia.
In that vein, the Kosovo Justice Minister sent a letter to his Swiss counterpart to object to any plans to extradite the men to Serbia.
The Swiss Justice Ministry confirmed that the Swiss Justice Minister had received a letter, and had responded, addressing his concerns.