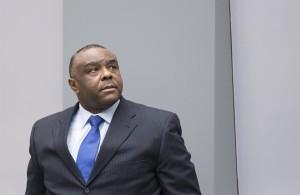 Trial Chamber III of the International Criminal Court (ICC) today sentenced Jean-Pierre Bemba Gombo to 18 years' imprisonment for war crimes and crimes against humanity committed in the Central African Republic in 2002-2003.
In March the Chamber had found the former vice-president of the DRC guilty beyond reasonable doubt for the crimes of murder, rape and pillaging committed by militiamen under Bemba's command.
For the crimes of rape the Chamber imposed 18 years of imprisonment while 16 years of imprisonment were imposed for the crimes of murder and pillaging. However, the Chamber decided that the sentences imposed shall run concurrently.
The Presiding Judge, Sylvia Steiner, indicated that the Chamber found the crimes of murder, rape, and pillaging to be of serious gravity. The Chamber held that two aggravating circumstances applied to the crime of rape: it was committed (i) against particularly defenceless victims and (ii) with particular cruelty. The Chamber also considered that the particular cruelty with which the crime of pillaging was committed counted as an aggravating circumstance. There were no mitigating circumstances.
Bemba has been in detention since May 2008, which time will be deducted from his total sentence. Since convicted persons become eligible for early release once they have served two-thirds of their sentence, Bemba could apply for early release in 4 years. It is not clear in which country Bemba will serve his sentence.
Earlier on Tuesday Bemba's lawyers already gave notice that they will appeal his conviction and press for a mistrial.
In 2014, Bemba and four other accused, including his former lead counsel, were charged with offenses of corruptly influencing witnesses in the war crimes case. The hearings in the contempt case have been completed, and a judgment is expected later this year.