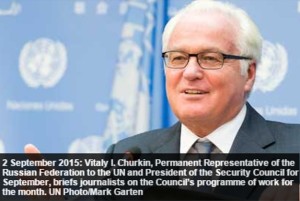 Yesterday, Ambassador Vitaly Churkin held a press conference assuming Russia's presidency of the United Nations Security Council for September during which he commented on the UNSC reform and proposals on veto limitations. Commenting on the proposed initiative by France to limit UNSC permanent members veto powers, Churkin said it was a "populist" idea and that a compromise on a UNSC reform was nowhere in sight.
Ambassador Churkin has first addressed negotiations around the admission of new permanent members, introducing a third-category of long-term non-permanent members: "We want a historic compromise to be reached between the two main camps: Those who want to have new permanent members and those who don't want to have permanent members, and advocate a reform with a new category of intermediate countries which will be elected for a longer period of time than the current two years for the current non-permanent members."
Moving to the issue of veto powers, Churkin was more explicit in expressing the Russian position: "On limiting the veto, it is a separate initiative…we are against it. This is not a workable proposition, this is not a workable scheme." Churkin pointed at the risks of coalition opposing a group of permanent members to isolate one of its member and deprive the member of its right of veto. Churkin also argued that some resolutions, because of their sensitive and political content, had to be subject to veto. Referring to Resolution 1973 on Libya, Churkin put forward that humanitarian actions as provided for by UNSC resolutions are sometimes counterproductive and need to be weighed more thoroughly. "You cannot say that every resolution, which is proposed in the situation of dire humanitarian need, is necessarily a good resolution, which is going to resolve the problem and which is not going to be used for some political purposes. What if the resolution says that 'we are going ahead to occupy the country and bomb them to the Stone Age'? What if mass atrocities are committed by terrorist groups and the government is trying to fight those terrorist groups and somebody says 'Well, listen, there are mass atrocities and the government is not coping – so let's go ahead and occupy the country'?"