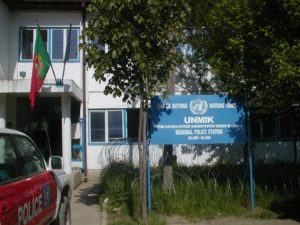 On Wednesday, 13 July, the Human Rights Advisory Panel submitted a report about the United Nation Interim Administration Mission in Kosovo (UNMIK). In this report, the Panel, whose role is to issue recommendations to the UNMIK, described the Kosovo peacekeeping mission as a "total failure".
The report strongly criticizes the UNMIK's handling of civilian grievances in Kosovo, including its failures to investigate disappearances and killings as well as negligence in the mass poisoning of hundreds of displaced Roma which were left in squalid United Nations camps built on land contaminated with lead.
According to the panel, "now that the Panel has concluded its mandate, putting an end to an eight-year process of issuing admissibility decisions, opinions, and recommendations, the Panel is forced to proclaim this process a total failure".
This conclusion is a source of embarrassment for the United Nations, which regularly assails governments for a lack of accountability and defends victims whose human rights have been violated in conflict zones around the world.
The Panel ends its report  apologizing « profusely to the complainants for its role in this sham ».
The United Nations Peacekeeping Department, which oversees UNMIK, said that UNMIK « values the work of its advisory panel » but emphasizes the fact that the Panel is not a Tribunal.
UNMIK officials had no immediate comment on the report.