by Rishi Gulati*
International law and its processes on their own cannot resolve the India-Pakistan conflict, only political will can. But as these two nuclear armed countries face-off, Dr Rishi Gulati (LSE Law) explains how the international legal system can provide the tools to an aggrieved party to respond to a breach of its rights, and therefore help play a constructive role in moments of heightened tension.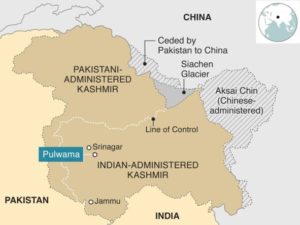 India and Pakistan were brought to the brink of potential nuclear catastrophe following the events of the Pulwama terrorist attack of 14 February 2019 which killed 40 Indian paramilitary police. Jaish-e-Mohammad (JeM), a prescribed terrorist organisation based in Pakistan took responsibility for the Pulwama attack. The events subsequent to Pulwama not only bring into sharp focus the rules around the use of force, but also the taking of countermeasures. An escalation in both those respects has already occurred. International law and processes can and should play their part to prevent the ever-worsening situation in South Asia.
The fog of war
In the aftermath of Pulwama, on 26 February 2019, India stated that its Air Force jets crossed the Line of Control in Kashmir and bombed a JeM camp inside Pakistan, saying: "Credible intelligence was received that JeM was attempting another suicide terror attack in various parts of the country…In the face of imminent danger, a pre-emptive strike became absolutely necessary." The following day, the Pakistani Air Force crossed the LOC into India, a dog-fight between the Indian and Pakistani Air Forces occurred, one Pakistani and one Indian jet was shot down during combat. India and Pakistan were most likely engaged in an international armed conflict between 26-27 February 2019 (the 'Two-day IAC').
Thankfully, the threat of an imminent international armed conflict between India and Pakistan has subsided somewhat, albeit the highly tense atmosphere has not lifted given ongoing skirmishes. The statements made by India and Pakistan purporting their respective conduct in the Two-day IAC to be 'non-military' (innovatively calibrated words subjected to analysis here and here), show that neither India, nor Pakistan wish to escalate further the Two-day IAC. As far as the law on the use of force and self-defence is concerned, both India and Pakistan have sought to obfuscate international law considerations given the contentiousness inherent to the law. However, the reasons for de-escalation have little to do with the law on the use of force, but the reality that both those countries possess nuclear weapons. Any prolonged international armed conflict could result in mutually assured destruction (MAD). While the Two-day IAC is over, the longstanding conflict between India and Pakistan is not, bringing into focus the application of countermeasures. Continue reading →