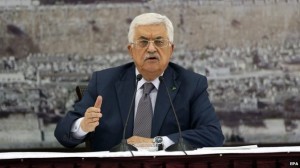 Last Wednesday, Palestinian leader Mahmoud Abbas signed the Rome Statute to join the International Criminal Court (ICC).
He signed the Rome Statute, the ICC's founding treaty, at a Ramallah meeting.
However, the International Criminal Court will only acquire jurisdiction over war crimes, crimes against humanity and acts of genocide on Palestinian territory when Palestine will have ratified the Rome Statute.
The signature follows the rejection of a UN Security Council resolution demanding an end to the Israeli occupation of the Palestinian territories by late 2017.
Eight members of the Security Council voted for that resolution, while it needed the support of at least nine members in order to pass.
"We want to complain. There's aggression against us, against our land " […] "The Security Council disappointed us", Mr Abbas said.
The Palestinian Authority sought to accept the jurisdiction of the ICC back in May 2009 by way of an Article 12(3) declaration. In April 2012, the Office of the Prosecutor determined that since Palestine was an "observer entity," it could not ratify the Rome Statute.
In November 2012, the UN upgraded Palestine's membership status to that of a non-observer member state. Writing in an op-ed for The Guardian in August 2014, Prosecutor Fatou Bensouda stated that the effect of this upgraded status was such that Palestine could now join the Rome Statute.