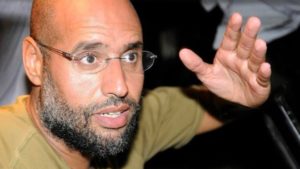 The Prosecutor of the International Criminal Court (ICC) yesterday called on the Libyan authorities and all other states who are in a position to do so, to immediately arrest and surrender Mr. Saif Al-Islam Gaddafi, the son of former Libyan leader Muammar Gaddafi, to the ICC.
She noted that she was aware of the latest media reports alleging that on 9 June 2017, Mr. Gaddafi was released from the custody of the Abu-Bakr al-Siddiq Brigade of the eastern Libyan town of Zintan, where he had been held since November 2011. The Prosecutor stated that her office is currently verifying these reports and is taking all necessary steps to determine Mr Gaddafi's whereabouts.
The Prosecutor, Ms. Fatou Bensouda, stressed that the arrest warrant issued by the ICC against Mr Gaddafi on 27 June 2011 for the crimes against humanity of murder and persecution, allegedly committed in Libya during the uprising that ousted his father in 2011, remains valid.
According to Ms. Bensouda, the purported amnesty law, under which Mr. Gaddafi has said to been freed, does not relieve Libya of its obligation to immediately arrest and surrender Mr. Gaddafi to the ICC.
In the same statement, the Prosecutor called for the immediate arrest and surrender of Mr Al-Tuhamy Mohamed Khaled, who is also the subject of an ICC arrest warrant in the Libya situation, made public on 24 April 2017.
Mr. Al-Tuhamy is Muammar Gaddafi's former security chief and is alleged to be responsible for the crimes against humanity of imprisonment, torture, other inhumane acts, and persecution, as well as for the war crimes of torture, cruel treatment and outrages upon personal dignity, committed in Libya in 2011.
Media outlets report that the release of Saif Al-Islam Gaddafi could fuel further instability in the country, which has been under the rule of three different governments since Muammar Gaddafi's fall in 2011. The UN-backed Tripoli government condemned the release.
In July 2015, Saif al-Islam Gaddafi was sentenced to death in absentia by a court in Tripoli in a mass trial of former Gaddafi government officials. The verdict had drawn condemnation abroad, with Human Rights Watch saying the trial was riddled with legal flaws and carried out amid widespread lawlessness undermining the credibility of the judiciary.